Motorboats that even sailors dream of
Our shipyard, as a specialist for sailing yachts with timelessly elegant lines, presents a motorboat concept of the absolute upper class. Together with Beiderbeck designs, we developed motorboats in three different sizes that have one thing in common: Innovative technical concept solutions at their best, classic aesthetic and emotional lines that are reminiscent of the glorious days of classic yachts and make every sailor's heart beat faster. In addition, a modular deck layout allows for many other possible uses.
Additional Informationen:
E-Mail: classics@robbeberking.de
phone: +49 461/31803060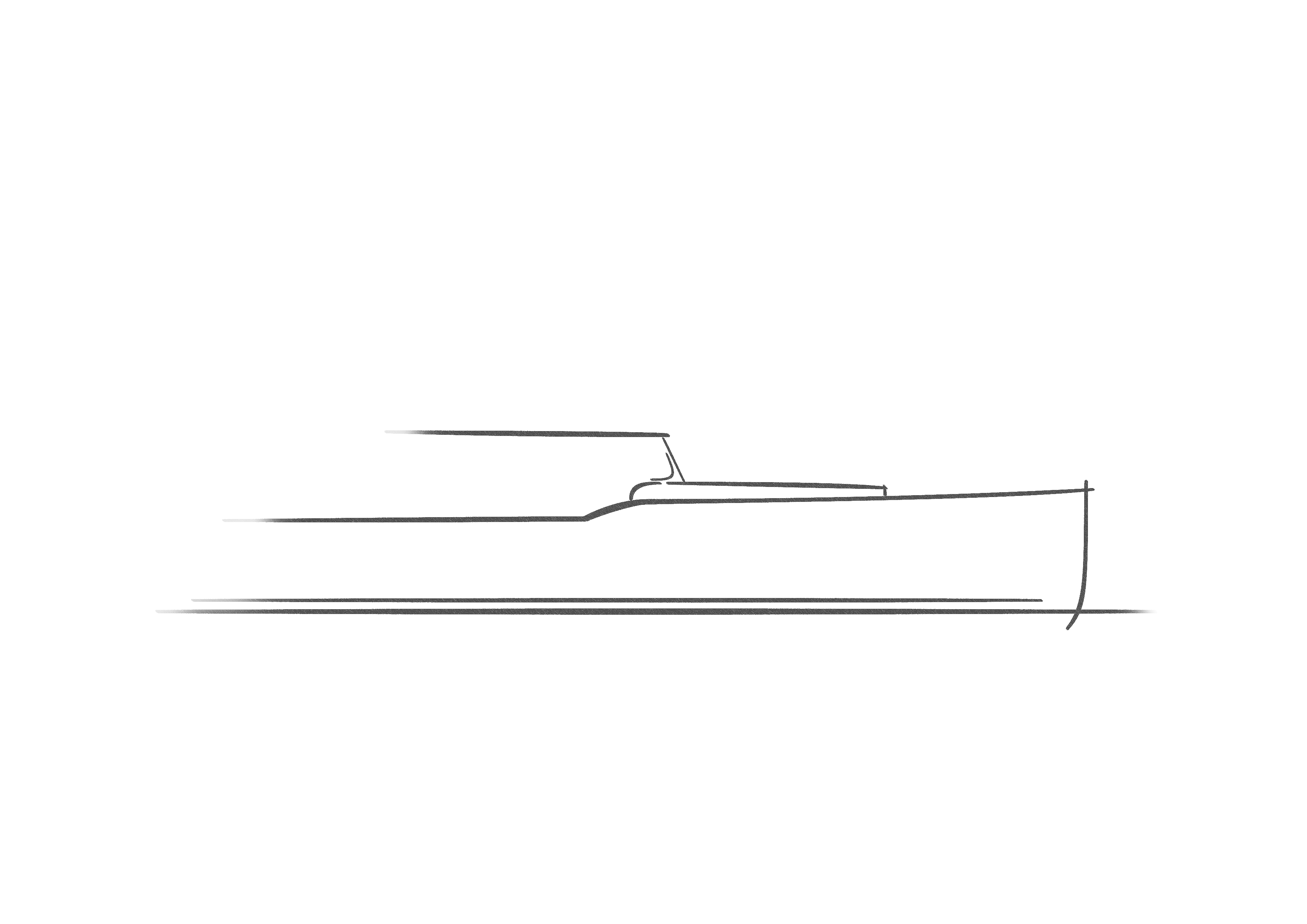 Rush hour on Long Island Sound: a dark mahogany yacht comes shooting out of every other bay. Soon there are four, five, even six of these long and slender motor yachts. And they engage in an every-morning race on the 35-nautical-mile stretch to Manhattan. In the Golden 1920s, the powerful of Wall Street cultivated a particularly pleasant way of getting to their offices. The matching yachts were distinctive and bore the prosaic designation »Commuter Yachts«. They were as fast as possible, offered the passengers sufficient comfort and protection from bad weather, had an adequate galley because the owners often wanted to have breakfast on board on the way to work and, in addition to the accommodation for the crew, had at least one more comfortable sleeping cabin in case the owner decided to take a short trip. But that was it. The fast and extremely elegant yachts with their unique aesthetics were stylish, but not particularly luxurious. In fact, they were mainly used as a faster and often more reliable alternative to travelling over land, and some also served as »tenders« for the racing yachts of those years, i.e., mainly the 12-mR yachts or the J-class yachts. The flair that surrounded these »commuter yachts« and the fascination they exuded have endured to this day, especially among those who appreciate beautiful things in a timeless and classic design. It is above all the characteristic aesthetics of these yachts that make them, especially in today's understanding, a »motor yacht for sailors«.
The yacht designers from the renowned company Beiderbeck Design, together with Robbe & Berking Classics, have already presented very advanced and detailed concept studies and designs for modern interpreted commuter yachts. Elegant boats entirely in the unmistakable style of the 1930s, but with the economy and comfort expected today. The narrow hulls, for example, are not only elegant but also faster because they have less resistance in the water. Therefore, they also cut pleasantly and smoothly across a stretch of water. The superstructures are flat and rounded, yet offer plenty of space and light inside. Of course, various drive systems can be realised, besides pure diesel engines also alternatives such as hybrid or electric are available.
These boats are planned as a very fine and noble small series. The light and strong hulls are built in a modern composite laminate, but visually they look as if they were built of varnished wood. And of course, on deck, all visible parts are made of selected woods and other high-quality materials. Again and again, however, there are pleasant surprises, because within a classic aesthetic, details are hidden that one would otherwise rather expect to find on an ordinary motorboat. For example: the commuter yachts of the 1920s and 1930s were exquisitely equipped, but they did not offer direct access to the water. These modern Commuters, however, have a beautiful, clear-lacquered mahogany transom, but you cannot see from a distance that it also folds down and turns into a terrace on the water.
The smaller of the two designs is the ideal day cruiser. At a length of just over ten metres (33 feet), it offers a fixed Bimini and sun canopy on deck, a large dinette with galley and refrigerator in the cockpit, as well as a sun lounger and bathing platform in the stern. Below deck there is a double berth, a bathroom with toilet and another galley, also with refrigerator. The slightly larger, 12-metre Commuter is designed as a weekend cruiser. It offers more interior space with a second cabin. The interior of both versions is particularly light and friendly thanks to the continuous band of windows in the superstructure.
Volvo Twin Sterndrive as hybrid for diesel or all-electric driving with Volvo/Transfluid or later Volvo Hybrid unit or on request pure diesel.
–
Top speed of both models >30kn depending on engine.
–
Relatively narrow hulls with sharp bow lines for pleasant seakeeping and to minimise drag.
–
Composite hulls with local carbon fibre reinforcements and roofs and bimini's made of carbon fibre composite as lightweight construction for low consumption, low centre of gravity and good handling.
–
Mahogany superstructure, transom and cockpit.
–
Folding mahogany transom, which allows for a coherent boat shape without having to do without a bathing platform.
–