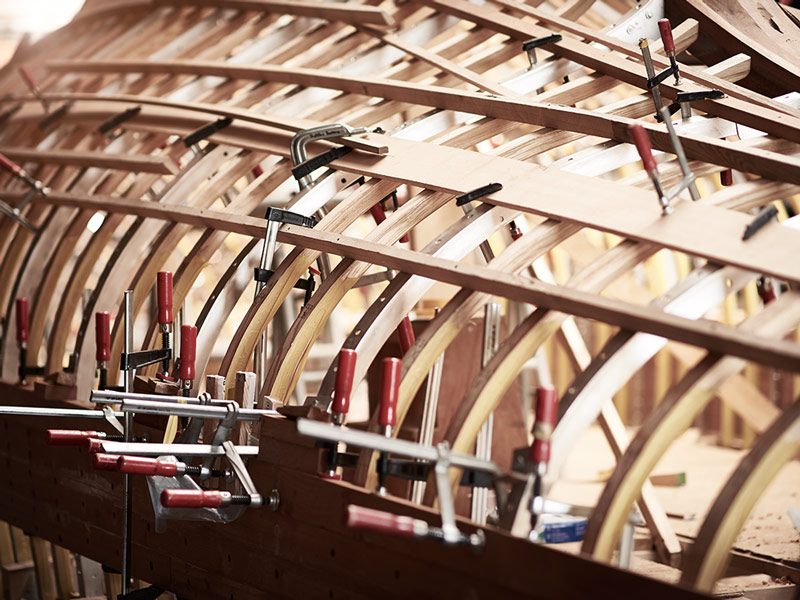 About the shipyard
---
We love classic yachts. That's why we restore them when we can, or build new ones. According to historical or new plans, in the traditional way or in modern construction – but always made of wood and by hand. We have already rescued several famous racing yachts in the metre classes and either restored or rebuilt them. Researching lost yachts and their original construction plans is one of our important tasks. At the same time, we also build newly designed yachts – cruisers, racing yachts, motor boats, tenders and dinghies.
Our shipyard offer
We restore yachts from the keel up, and rebuild lost yachts to the original plans – this is your chance to own a unique and historically significant yacht. A classic of America's Cup history is ready for restoration at our shipyard. The 12m-R yacht "Gretel" sailed as a challenger for the America's Cup in 1962 and was the first ever Australian 12, designed by Alan Payne.
Vision, the last launched of the three sister ship, has been ordered by the Royal Canadian Yacht Club to sail at the Canada's Cup, the most important 8mR race in North America...

This is the real deal! A yacht for the gentleman, with style and taste, an eye-catcher in every port. A classic profile with modern technology.
Current offers from classic yachts
The traditional yacht broker Baum & König has been the first address for the purchase of classic yachts since 1984. And if your classic dream yacht is not on offer at the moment, we will track it down for you. We also arrange tailor-made insurance for your vessel and take care of the sale of your yacht if required.
Event location

---
Celebrate and meet in style at Robbe & Berking. Give yourself and your guests special moments in an inspiring ambience - the maritime world of Robbe & Berking. We are happy to support you in making your festivity an unforgettably beautiful event!

-
A winter exhibition dedicated to the most beautiful materials. Wood, silver, linen, clay and many more materials are the foundation of the beautiful work by artists
[…]

-
For the second time in Flensburg: The "World Press Photo Exhibition" is returning. 29 September – 7 November 2021: Robbe & Berking Museum, Flensburg Since 1955,
[…]

-
On more than 1700m2, the Robbe & Berking Museum will be an absolute must-go for all cyclists this summer from June 12th to September 22nd.